Moon, the cult lamp of the 90s signed Slamp, returns in a special edition for its 25th anniversary. Produced until the beginning of the new millennium, the new Moon 25th Anniversary resumes the design of the original patent (1993) and is adorned with a totally contemporary decor rendered by the marble ribs silk-screened on the front in 3 chromatic compositions (White, Black and Pink). The geometric lines, avant-garde at the time Slamp made its entry into the international design landscape, dictated a fashion that is now welcome in the most casual and elegant settings around the world.
MOON TABLE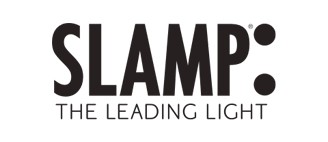 by
Slamp Team
Tax included
Delivery time: 3 weeks
Slamp's 90's cult lamp, Moon, is back after 25 years, with a celebratory anniversary edition! Originally released in 1993 and manufactured until 2000, the Moon 25th Anniversary edition lamp keeps its original design, and features a new, contemporary marble-effect finish available in three chromatic "blends" (Black, White, and Pink). Moon's avantgarde, geometric lines served as Slamp's introduction to the international design panorama; today the iconic trend defines cool and elegant interiors around the world.